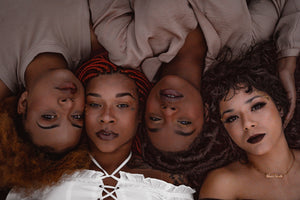 Understand Your Natural Hair Type and How to Maintain it
Every girl desires healthy, good-looking hair. The first step to this is to understand there are
different types of natural hair, and each has a different way to be taken care of. If you are wondering how I find out my natural hair type, no need to worry. 
We will give you an easy read with a well-understood description for you to point out your natural hair type easily. 
Understand the Different Types of Natural Hair
Black women have the most luscious and attractive hair types. The curls and volume are admirable. Being blessed with such regal beauty, you need to know how to take great care of your crown. 
As you wonder, what is my natural hair type, let us understand what natural hair is. When you don't use any chemical products to loosen your natural curl pattern or curl your naturally straight hair, then you have natural hair. 
In the past, black women used harsher chemicals to straighten their hair patterns. Thanks to advanced technology, many women use safer and more natural products to cater to their natural crown.  
Miss Jessie's hair products are popularly known for perfecting the art of catering to curly and wavy hair. The founders Miko and Titi Branch realized the frustration of finding products that catered to curly hair, so they decided to make their own and did so successfully.
Miss Jessie's hair products cater to different types of natural hair. 
Now that you understand what natural hair is, we can move forward with natural hair types.
Transitioning Hair
You may be considering changing your hair back to its natural state; this is hair transitioning. It may feel weird at first, natural coil roots with straight ends. But if you want to answer your question, what is my natural hair type? This is a good start.
It is a journey to transition from a relaxed to a natural curl hair pattern. Your roots are confused at first as they go through the process of remembering your coil pattern. The different types of natural hair listed below will help you understand your hair type.
Types of Natural Hair
The system to determine different hair types and textures is not perfect, but it comes close. It works well if you wonder, what is my natural hair type. It is an overview of four types of hair, from wavy to kinky, and each type is divided into three textures. The textures are A, B, and C; A has the lighter texture in the group, while C has the heavier texture.
The following explains each hair type and ways to take good care of it for those asking, how do I find out my natural hair type.
Type 1
This type of hair is straight; 1C has a slight wave. This type needs little hair products for maintenance. 
Type 2
Now the textures start to show. Type 2 hair is wavy; we are generally looking at the S pattern texture. It borders between straight and curly. The hair is close to the head at the roots, and the curls increase at the hair ends.
Wash this hair type once a week with sulfate-free products. In case it feels dirty within the week, wash with conditioners only; this is called co-washing. Apply natural oil before shampooing to avoid greasy-looking hair. 
Heavy cream products may weigh your curls down; opt for light products like mouse and serum that lock in moisture.
Type 2A has fine waves. Hair products can weigh the hair down and straighten the curls since there is less volume. You need light hair products like Miss Jessie's Pillow Soft Curls. This soft cream is perfect for small and large natural curls with its hair fabric care technology.
Your hair will be static-free and have a soft hold to your curls. 
Type 2B hair is still flat at the roots, but the S-shaped waves are more defined from mid-length down. The crown has some freeze, and the texture is medium. This type has thicker hair strands and needs a little effort to straighten.
It will go well with Jelly Soft Curls that provides soft, shiny, and crunch-free curls. 
Type 2C waves are more defined and start at the roots. These S-shaped hair strands have a thicker diameter. 
If you have this type, the frizz struggle may get to you. Not to worry, though, the Curly Meringue takes care of the frizz while showing off the best side of your natural curls.
Type 3
This type has well-defined curls, and some appear like a corkscrew. Its texture ranges from light to tight curls and tends to frizz and dry. It needs extra care to enjoy the natural pattern. Moisture is your friend to maintain type 3 curls. 
There is more texture combination and volume than type 2.
Type 3 hair dries out fast; use a moisturizing shampoo once a week. Also, use a light oil like Almond before applying hair products to keep the hair moistened during the warmer seasons. A bi-weekly conditioning shampoo will bring the balance between protein and moisture; this reduces frizz. 
Type 3A has large and loose curls. The hair is shiny with defined S-shaped curls with a circumference similar to sidewalk chalk.  
For excellent curl definition, Honey Curls spreads smoothly and locks in moisture. It works well with oily hair by preventing grease build-up. The honey and natural oils give a soft, good hold to your curls. 
Tip. After washing your hair, you can define your natural curls with your fingers before it dries. Finger detangling is easier with type 3 hair.
Type 3B hair has bouncy curls with a Sharpie marker circumference. The curls appear like ringlets or corkscrew with a large volume. It dries faster than 3A, so the Honey Curl product will be perfect to attract moisture to the hair strands. 
Tip. Humectant hair products (retains moisture) like honey will soften the coarse and dense texture. Alternatively, if you want the curls without the freeze, anti-humectant or styling milk is a good option. 
Type 3C S-shaped patterns are tight and flexible, also known as curly-coily. The corkscrew curls are frizzy, dense, and have the most natural volume, but this volume is also the highest vulnerable to shrinkage. You can stretch it safely without heat by using rod sets and twist-out. 
The coils have a circumference similar to a straw or pencil. The Super Sweetback Treatment gives you longer curls with less frizz, and its natural extracts promote growth and soft curls.
Type 4
This kinky or afro-textured hair feels spongy. It varies from soft to coarse or wiry textures. The hair has tightly-packed coils with high volume. These strands have a zig-zag shape from scalp to ends. 
Despite the volume, the lack of cuticle layers makes type 4 hair susceptible to dryness. The proper ways to take care of this are adding moisture, detangling safely, and preventing shrinkage. 
Use a wide-tooth detangling comb and a curl bonnet for that extra care. 
Type 4A coils have the circumference of a crochet needle. The S-shaped coils are dense and work best with wash-and-go products for soft curls. This Curly Buttercreme hydrates natural curls and prevents knots at the end. 
The peppermint essence gives a cooling effect. This product is perfect for daily maintenance or to apply as a base for other styling products. 
Tip. Combining creams as a base to other hair products is perfect for type 4 course hair.
Type 4B hair strands bend in sharp Z-shaped angles and are densely packed to a fluffy afro. They crave plenty of moisture and need protective styles to prevent breakage. This makes Baby Buttercreme an excellent option.
Yes, it is for kids, but it works just as well for adults. It has a lighter scent and works with dry and knotted kinky hair. You can use the creme with braids and twists while locking in moisture. 
If you have long 4B hair, tie it at the forehead with a large hair tie for an adorable hair puff. You can also add a hairband and other accessories to your hair for a playful look.
Type 4C may be very coarse, but it is manageable with the right approach. The zig-zag hair pattern needs a wide-tooth comb for easier detangling, be gentle and start from the ends to the roots. This type is similar to 4C but has less definition. 
The hair strands are coiled very tightly, making them delicate. It shrinks easily and needs avid protection from elements like heat. Your delicate curls need creamy humectants for moisture, be generous with the amount to cover all of your hair.
You can use the Curly Buttercreme with the Hold Me Down edge control gel for extra styling. It is strong and flake-free, guaranteeing a lasting tame on those edges. 
An easy styling approach is using a lovely scarf to style your hair; it gives your hairline a break from the constant breaking. Another approach is the pixie cut; use different cuts or hair colors for a uniquely chic look. 
Self-care
Finally, natural hair is an online trend. We scroll with Oohs and Aahs admiring different pictures of women with natural hair. Always remember it took a little self-care for the hair to appear that good.
You can have such glory on your head that others will admire. A little hair love will go a long way. We hope this curl guide helped answer your questions;
what is my natural hair type, different types of natural hair, and how do I find out my natural hair type
. Check out Miss Jessie's for a variety of curly hair care products!
---