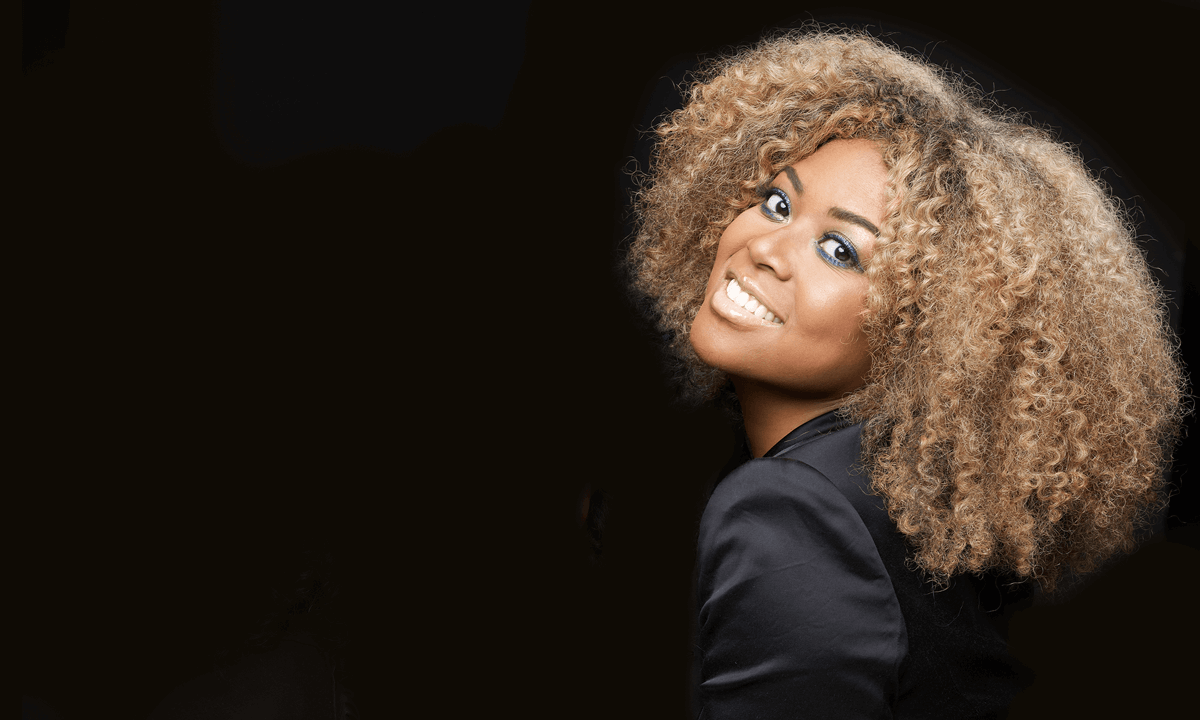 About TITI
ABOUT TITI
Titi Branch is the Co-Founder and CO-CEO of Miss Jessie's.
Growing up as a kid in Queens NY, Titi Branch was clearly a tomboy. She was smart, inquisitive and always recognized as the book-smart kid. At that time Titi thought she would grow up to be a reporter. In elementary school Titi and her sister Miko were bussed to a school outside of their district. Titi excelled and was placed in the advanced academic class and caught the eye of her principal, Dr. Schwartz who suggested she take the test for Hunter College High School; an elite school in Manhattan. Titi took the test and got in!

Traveling from Queens to the Upper East Side of NYC was an all together different experience and one that very few kids in her neighborhood were experiencing at the time. Although she was having a rich experience mixing with the "sophisticated" kids of the city, her attention waned and Titi's calling guided her elsewhere. Titi became more interested in typical adolescent things like hanging out and boys than she was in school. As a result, Titi left Hunter after 2 years and finished up her HS education back in Queens, NY.
After high school, Titi enrolled at the University of Maryland, where she earned a degree in Consumer Economics. From an early age, Titi's father always ingrained the importance of controlling your own destiny and she was able to express this through entrepreneurship. Straight out of college, she opened a cleaning business with her sister Miko. This proved to be difficult work so Titi left the business and got a job at WABC-TV as the assistant to the News Director.

While at WABC-TV, other opportunities became available to her as a field producer and Titi's duties included filling in for reporters, conducting interviews, pitching news stories and research. It was an exciting job but Titi yearned for more independence and personal expression.

Meanwhile, Titi's sister Miko was getting her hustle on from their shared loft in Brooklyn as a freelance hairstylist and this sparked Titi's desire for independence again. In 1996 Titi opened up an artist repping agency called Icon Creative Artists where she represented photographers. Some of her clients included hair and celebrity photographers which gave her entrée into the hair business. Those celebrities included, Mary J Blige, Garcelle Beauvais and Dru Hill to name a few.
Titi and Miko's world became closely intertwined as they discussed their day and realized they were in the same business. Their "Aha" moment came and it occurred to the two sisters that they needed to work together. Titi took Miko on as her client and represented her. By far, her most successful client became Miko. She got editorial work her sister and then they landed an advertising campaign with Ashley Stewart. With the revenue they received from the campaign, they pooled their money together and opened up their very first salon in the Boerum Hill section of Brooklyn in 1997. They named it Curve Salon.

Unsure that the salon could make it on its own Titi did not quit her day job. That was until Miko complained (during the first week of business) that she did not want to be at the salon during the day alone. Titi decided to give up her day job and join Miko full time at Curve. They made a profit the first month! The sisters were known as the 2 girls with the cute salon on Bond Street. From there they worked daily to establish themselves as the go-to place for healthy hair.

Dedicated to this joint venture with her sister Miko, Titi did everything from sanding floors, painting, construction, consultations, booking appointments, answering phones, greeting customers, public relations, marketing, payroll and all of the things that go along with the day to day operations of a business. Titi's contribution ensured that the salon was a success.

A short stay after moving their salon one block away from the original location on Bond Street, Curve Salon moved its business to the Bedford Stuyvesant section of Brooklyn in a Brownstone and got serious about curls, kinks and waves.

Curve Salon developed styling techniques and solutions for this untapped niche market and Titi pioneered words that were forever part of the lexicon of the curly hair movement. Styling techniques like "Shingling" were now part of the vocabulary of curly hair. Shingling was a technique Titi developed at the salon. In dealing with their customers' everyday hair care needs, Titi stumbled upon a problem: there were simply no products on the market that catered to their clientele's hair type. This prompted Titi to become somewhat of a chemist. Titi often used products off the shelf in creative ways and made her own recipes at the kitchen table, like her grandmother Miss Jessie. Having a salon proved to be effective because the sisters could test product on their clientele. Titi spent many nights at the kitchen table trying to perfect their first curly haired formulation. Two years later in 2004 they unveiled their first product, Miss Jessie's Curly Pudding® and it immediately took the curly hair market by storm. Never before was there a product that enhanced the curl and gave it a brilliant shine. From day one, the response was overwhelming. Customers flocked from all over New York to the little salon in Brooklyn to buy the miracle products. In 2005, Curve Salon was renamed after Titi's favorite grand mother, Miss Jessie. Not satisfied with one product, Titi developed a second one called Curly Meringue® which held the curls in place longer. With moisture as a principal guiding force, Titi introduced Curly Buttercreme® and later Baby Buttercreme®. Titi's product development is a fundamental component of the entire Miss Jessie's hair care collection. Rapid Recovery™, Stretch Silkening Crème ™, Quick Curls ™, Crème de la Crème ™, Crème de la Curl ™, and Curly Pudding Unscented ™, soon followed. Nothing gets put out on the market without Titi's stamp of approval.

Today, Miss Jessie's products are well-known throughout the hair care industry, and have been featured in numerous popular publications including O, The Oprah Magazine, Essence, Allure, Lucky, Marie Claire, WWD, Elle, in addition to appearing on NBC's The Today Show.

As a curl enthusiast herself, Titi continues to dedicate her time and attention to further establishing Miss Jessie's as the universal source for All Things Curly including products, styling solutions and a vibrant curl community having a language all its own. Ultimately, Titi Branch's goal is for Miss Jessie's to become the leading brand in the naturally-curly hair market while maintaining a close, family-like connection with the brand's customers. "We want to be part of their journey and experience while at the same time growing the brand and maintaining our integrity in the market," Titi says. "When we get letters and emails from customers saying how our product and our message has changed their life and given them confidence to express their individuality - that's what makes all the hard work we've put into Miss Jessie's worth it."