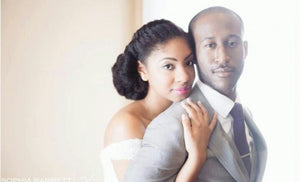 Bridal Styles That Will Make You Smile!
Are you a blushing bride preparing to make your way down the aisle, committing your life and love to the man of your dreams? Well before making the big commitment, you should probably commit to a hairstyle first! While in the great scheme of things, we all know that weddings aren't about the physical and superficial attributes of the ceremony itself, however, every bride wants to look stunning, feel beautiful, turn heads, and especially impress their future partner! A bride's objective is to enter a room and take everyone's breath away, but in order to successfully achieve this effect, a degree of planning required on the part of the bride. We all know you curly, beautiful brides to be want to look your absolute best on your big day, so before choosing your wedding day hairstyle, here are some things to consider:
1. Choose a hairstyle that compliments your gorgeous gown. Every little girl dreams of the day that they can start the hunt for their fantasy wedding dress. It needs to be flattering, yet comfortable, and have the power to leave people breathless, as you enter the room. However, your hairstyle can make or break people's reactions. How can you expect people to think, "Oh my gosh! Is that her?! Or did a princess/goddess just magically appear before us," as you enter the room, with a mundane monstrosity on top of your head? Typically, updos look best with dresses with higher necklines, and loose locks look best on strapless dresses or dresses with low hitting necklines. The key is striking the perfect balance between hair and dress allure- these attributes should compliment each other on your body, not outshine each other for focus. Everyone should be in awe of all of you.
2. Hair trials are a must. You wouldn't by a car without giving it a test run first, would you? And DIY wedding styling will leave you more vulnerable to a potential hair-tastrophe, which no bride has any time for. Wedding preparations can be stressful enough, to begin with, so styling your own hair should be the last thing you worry about. Even if you are an experienced stylist by trade, I would suggest seeking out a second, objective opinion, to ensure you really look as flawless and fabulous. Consult with an experienced professional stylist on what looks would best work for your unique curl texture, hair length, facial shape, dress style, wedding theme, etc. It may cost a little extra money, but trust me, it will eliminate a lot of the pressure and be completely worth it in the end. A great stylist will ensure perfection on your special day by really clarifying and narrowing down all your potential hair options. If you are a fellow curlfriend about to take a trip down the aisle and live in near the Manhattan area, I strongly suggest booking a hair trial appointment with one of our curl experts at the Miss Jessie's Salon, located in SoHo. For those curlfriends unable to stop by, then just be sure you choose a stylist who is well versed in the art of curly styling.
3. Don't forget the Veil! Whether your taste is elegantly minimal or extravagantly momentous, and your headpiece is a classic veil or a modern barrette, bohemian flowers or a timeless tiara, this choice in accessory is what will ultimately seal your entire look together. While I know some brides may choose to forget the veil or headpiece, it is my personal opinion that, other than the white dress, your headpiece is the only thing separating you from any ole bridesmaid or guest. This is why it is important to consider this detail when choosing your style, and if you should bring it with you to any and all hair trial appointments. Still drawing a blank on how to style your curls, for your wedding day? Allow us to provide you with a little inspiration:
---