3 Original Miss Jessie's Solutions for Styling Shrinkage
What is Shrinkage?
Shrinkage is a term in the styling community, used to refer to curls when they are in a highly tightened, coiled state, causing the naturally curly hair to appear much shorter than it actually may be, when completely dry. Stretched Out means the opposite of shrinkage, referring to a state in which curls are elongated, exhibiting one's maximum hair length. The stretched-out state is most visible when hair is still wet, following a wash, and gradually shrinks up as hair continues to dry.
Stylistically, everyone has their own choice look. Some don't mind rocking a short, shrunken, fluffy fro, while others desire a consistent display of curly length, but these results are determined by how you choose to cater to your curly texture. Those desperately seeking elongation may hastily apply excessive amounts of heat to hair in order to obtain length, which leads to breakage and hair damage. On the other hand, those who embrace their hair shrinkage may be tempted to slack on nourishing curls regularly with the necessary moisture this texture of hair requires, again leading to breakage, damage, and simultaneously losing the beautiful definition in their curly, kinky, and coily pattern. Fortunately, Miss Jessie's provides the perfect stylistic compromise that strikes a balance between both styles and supports your hair's health.
Source: Tumblr
How can I prevent excessive curl shrinkage? Since shrinkage can be a symptom of excessive hair dryness and damage, keeping hair moisturized is key. All curly textures must follow every cleansing shampoo with a conditioner or deep conditioner. Also, prepping curls prior to styling can help, and you may achieve this by first detangling hair, then applying products to elongate natural curls, such as Curly Buttercreme or Baby Buttercreme. This will help lock in moisture and make curls much more manageable, for styling manipulation.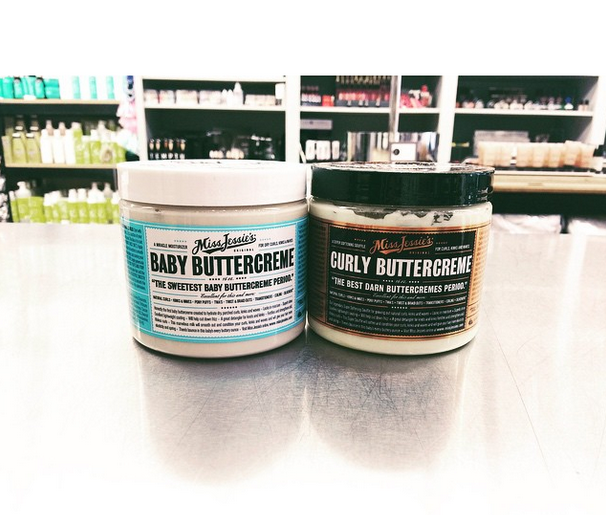 Source: Instagram, User: @kenigalcone
Also, protective styles, such as two-strand twist outs, braid outs, and Bantu knots, will sculpt and mold natural textures, while also retaining your hair's moisture. They also can effectively create the appearance of lengthy, elongated curls.
Source: Tumblr
If you prefer shrinkage and enjoy sporting shorter styles composed of tight and coily curls, your hair's elasticity is a sign that it is in good health. As long as your ringlets are capable of springing back, without any snaps or breakage, your hair's health is in top shape. If this is not the case, a little elongation due to a needed dose of moisture won't totally ruin your styling objectives, because your hair will shrink up as it dries naturally.
What are some specific Miss Jessie's products that help deal with shrinkage?
1. Super Sweetback Treatment, $14 for 8 oz 
Source: BirchBox
If you are a curlista who struggles with managing flyaways, split ends, dryness, and all-around hair damage, Super Sweetback Treatment's intensely rich deep conditioner, is exactly what you need. With the sweet scent of bubblegum, this delicious formula creates smooth, silky, soft, supple curls that are easy to manage. It also contains a special ingredient, Centella extract, which stimulates healthy hair growth, so you may obtain all the natural length you desire.
2. Coily Custard, $14 for 8.5 oz
Source: BirchBox
For loose, well moisturized, and elongated curls and coils, Miss Jessie's Curly Custard is the ideal wash n' go styler. Coily Custard's unique formula of agave and coconut oil yields a slippery emulsion, coating dehydrated strands with much needed moisture, from roots to ends. This will define your curl pattern as it combats shrinkage, with a glorious shine, sans the greasy residue.
3. Stretch Silkening Creme, $22 for 8 oz 
Source: BirchBox
A dry whipped styling soufflé, Stretch Silkening Créme is truly a Miss Jessie's original innovation. This product is a lighter alternative to other products in the Miss Jessie's créme family, with a medium hold that will highlight your curl pattern and create plump, elongated, sheen and shiny curls, kinks, and coils.
Source: Pinterest
Keep styling and keep smiling curly QTs!
Sources: 1 | 2 | 3 Branch, Miko, and Titi Branch. Miss Jessie's: Creating a Successful Business from Scratch-Naturally. New York: Amistad, an Imprint of HarperCollins, 2015. Print.
---