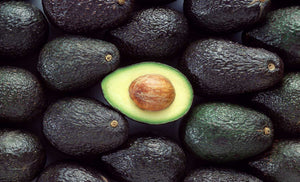 The Ambrosial Power of Avocados; 10 Avocado Based Beauty and Hair Remedies
Avocados are a delicious fruit, rich with vitamins and minerals that optimize your overall health, and nourish your entire body. Eating avocados helps to support healthy blood pressure, which means a decreased chance for dangerous medical complications, such as kidney failure, heart attack, and stroke. These healthy snacks are more than you're average tasty treat, containing a cornucopia of omega 3 fatty acids, magnesium, manganese, zinc, folic acid, amino acids, copper, iron, potassium, and vitamins A, D, E, K, B5, B6, all of which can help enhance your natural physical beauty. Avocados creamy contents contain organic essential oils with incredible moisturizing abilities, yielding themselves to certain reparative properties that are beneficial to the health of your hair, skin, and eyes.
Avocados and Your Eyes:
Avocados contain the antioxidants lutein and zeaxthin, which are especially excellent for your eyes and vision. The delicate, sensitive skin under the eyes is naturally more susceptible to sagging, discoloration, and dryness, which can make you appear much older and tired. However, the essential oils within avocados are a great defense against tired, aged eyes.
1. This Avocado Eye Cream is a great DIY treatment to prevent tired eyes.
Source: delightedmomma.com
Avocados for Your Face and Body:
Avocados can soothe irritated, itchy, blemished skin, due to excessive dryness and/or damage, caused by extreme weather conditions. They can also help heal common skin infections, like eczema and psoriasis. When applied directly to the face, avocados can even serve as an anti-aging skin remedy, decreasing the appearance of lines and wrinkles, and leaving face refreshed. Here are some DIY beauty remedies for your face and body.
2. Refresh and cleanse entire body with this DIY soap recipe.
Source: soaprecipes101.com
3. Soften, tone, and tighten skin, to reduce the appearance of wrinkles and fight the signs of aging, with this DIY facial mask recipe.
Source: thezoereport.com
4. Provide face with an intensified deep treatment, with this DIY facial mask concoction.
Source: thefashionspot.com
5. This DIY recipe is great for itchy, highly irritated skin, and is even an external anti-fungal skin treatment.
Source: deilataylor.com
Avocados and Your Scalp:
Avocados possess special moisturizing powers, which make them useful agents against scalp dehydration, and help to alleviate dandruff. Dandruff is more than just another unsightly, irritating skin condition because this level of scalp inflammation can have an adverse effect on your hair follicles, starting at the root. For completely healthy hair, you need a healthy scalp.
6. If you are struggling with dandruff or scalp psoriasis, help soothe skin inflammation and treat the scalp with this DIY remedy for scalp irritation, before shampooing and conditioning hair. 
Source: thebeautydepartment.com
Avocados and Your Hair:
The nutrients and oils in avocados can revitalize dull, damaged hair, from root to ends, nourishing hair with the intense moisture that all curly textures crave, making these textures super soft and silky smooth to the touch. Miss Jessie's expertise in curls, kinks, and waves has called us to include this incredible ingredient in some of our most beloved products. You can find avocado essence included in the formulas for these Miss Jessie's stylers:
7. Transitioner's Magic
Click here to purchase
8. Curly Pudding
9. Stretch Silkening Creme
10. Curly Meringue
For a super healthy and beautiful glow, saturate yourself in avocado, head to toe!    
Sources: 1 | 2 | 3 | 4 | 5 | 6 | 7 | 8 | 9 | 10
Images sourced via Pinterest
---