6 Soft Curl Styling Solutions, Courtesy of Miss Jessie's (Part 1): The Featherweights
This summer, as you search for the perfect lightweight curl styler, look no further than Miss Jessie's! Each of these products has been specially designed to highlight and preserve the structure of each wave, curl, and coil, highlighting your unique curl pattern without the leftover greasy, slimy, or crunchy residue other products may leave behind. To use apply a palmful each product to freshly cleansed and conditioned, damp hair to create lovely, luscious enviable curls. You follow up with a diffuser attachment to your blow dryer to increase curl's volume, or just do a little scrunching and finger styling, encouraging curl forms as you air dry and go! The wash n' go quality of these products qualify them as fun in the sun must-haves, for every pool, beach, or wilderness excursion you take this summer. So this year, get beach ready with boingy, boingy, bouncy, beautiful curls that are visibly healthy, smooth and shiny, while also soft to the touch. You will love these products so much you won't leave home without them!
Listed in order from softest hold to firmest hold:
1. Baby Buttermilk
Source: SallyBeauty.com
The softest of Miss Jessie's stylers, Baby Buttermilk is the ultimate lightweight, high-performance moisturizer and detangler. The latest addition to the Miss Jessie's family and the little sister to Miss Jessie's Baby Buttercreme, Baby Buttermilk is suitable for everyday use on highly textured, curly hair.Baby Buttermilk hydrates and moisturizes dried out and brittle curls, with a light coating that smooths out frizz, without leaving any greasy residue or weighing down curls of a lower density. This moisturizing styler will revitalize blasé curls, kinks, and waves, providing each ringlet with soft definition and bounce you really desire.
Suggested retail price is $22.00 (8 oz bottle).
To order and for more info on Baby Buttermilk
2. Transitioner's Magic
Source: CandidCinni.blogspot.com
Part styler, part leave-in conditioner, Transitioner's Magic is the curly hair solution, specifically designed for women eager to go natural, but are apprehensive about undergoing the "Big Chop" Transitioner's Magic addresses the challenges of managing transitioning hair, but what exactly defines transitioning hair? This is means after deciding not "Big Chop," you retain your hair's length, with naturally curly growth at the roots, and older relaxed ends. However, styling and maintaining transitioning hair can get complicated, requiring much patience, as these two vastly different textures compete for attention. Transitioner's Magic is a phthalates-free elixir, nourishing hair with certified organic ingredients, including safflower seed oil, avocado oil, and pumpkin seed, soybean, and spirulina extracts. This not only provides both textures a healthy dose of much-needed moisture, it also creates a soft hold, gorgeous shine, to make your transitional hair much more manageable Transitioner's Magic is Miss Jessie's original potion, capable of simultaneously catering to both textures as you navigate this process- it really works like magic!
Suggested retail price is $22.00 (8.5 oz bottle).
To order and for more info on Transitioners Magic
3. MultiCultural Curls 
Source: SallyBeauty.com
MultiCultural Curls is the definition of a Miss Jessie's original, as this styling lotion is the ultimate solution for styling and managing multi-textured curls. The inspiration for Miss Jessie's MultiCultural Curls derives from the childhood experiences of Miss Jessie's Co-founder's, Miko and Titi. Before they were even burgeoning young hairstylists and curl experts, Miko and Titi were a pair of bi-racial babies, in active pursuit of a product that could cater to their unique amalgam of curly textures. Some products were too heavy, oversaturating curls with oils and weighing them down. Other products were just too light. In the classic Miss Jessie's fashion, the Branch sisters discovered a solution to this problem, by coming up with an effective product capable of striking the right balance of moisture and hold- thus MultiCultural Curls was born. MultiCultural Curls gives curls uniformity throughout varying curl patterns, while simultaneously fighting frizz, and adding the right touch of super soft hold. Enriched with all-natural ingredients, including safflower oil and olive oil, MultiCultural Curls is a wash n' go styling lotion, that will give you a new appreciation for your diverse heritage, and the beautiful curls that come with it.
Suggested retail price is $16.00 (8.5 oz bottle).
To order and for more info on Multicultural Curl
4. Pillow Soft Curls
Source: GimmeThatGlow.com
What do you get when you combine hair care innovation with fabric care technology? You get the Miss Jessie's original, Pillow Soft Curls! Pillow Soft Curls is a Miss Jessie's quick-drying styling lotion that literally creates giant, luscious, fluffy, static-free, pillow-like curls. Tight, ramen noodle curl definition is not for everyone, so for those who desire more full, expanded mega curls, with a hold that is as light as a feather, and a bounce that just doesn't quit, Pillow Soft Curls is the styler of your dreams!
Suggested retail price is $22.00 (8.5 oz bottle).
To order and for more info on Pillow Soft Curls
5. Quick Curls
Source: TheBelleDiaries.com
Quick Curls is the Miss Jessie's universal curly wash n' go styling lotion that is making waves in the curly hair care industry! This soft curl sculpting styler is a weightless spiraling créme, exclusively formulated to create immediate curl and wave definition. Quick Curls helps all textures from curly, kinky, to wavy, achieve and sustain smooth, soft, touchable frizz-free curls, FAST! Perfect for the gal on the go that seeks an effortlessly chic look, with little maintenance, this fresh-scented conditioning formula is blended with the essence of ginger flower and lime fruit creates a sweet scent that lasts from morning till night. For elegant and easy heat-free waves and curls, with soft to medium hold, ASAP, Quick Curls is the answer to your prayers!
Suggested retail price is NOW ONLY $22.00 (8 oz bottle).
To order and for more info on Quick Curls
6. Jelly Soft Curls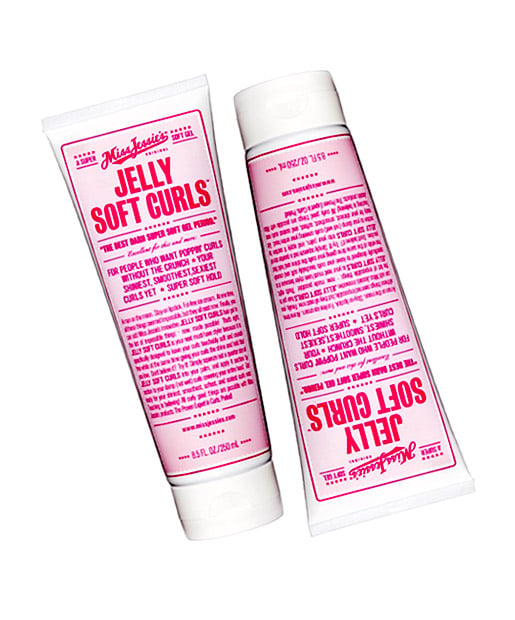 Source: TotalBeauty.com
From waterproof mascara to slice n' bake cookies, to landing a man on the moon, it's amazing what a little innovation and creative thought can produce. Now Miss Jessie's Jelly Soft Curls can be added to this long list of revolutionary creations! Though the firmest of the Miss Jessie's softy styling products, Jelly Soft Curl's is a curl sculpting, wash n' go styler, specifically designed to sculpt and hold the bouncy, coily structure of each curl, with a soft to medium gel hold. However, unlike other gel-based stylers, Jelly Soft Curls will also leave your hair touchably smooth, soft, and crunch-free. At last, you can achieve your smoothest, shiniest, sexiest curls with a medium to soft hold, for curls that POP, (sans the snap and crackle)! Thanks to this Miss Jessie's original, all curly girls can rejoice, heads held high with a beautiful crown of perfectly sculpted curls!
Suggested retail price is $14.00 (8.5 oz bottle).
To order and for more info on Jelly Soft Curls
Source: Tumblr
Cheers to simple summertime styling Curly Queens!
---