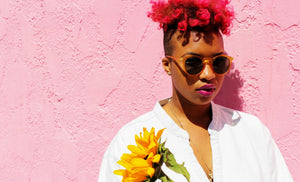 Soft Curl Styling Solutions, Courtesy of Miss Jessie's (Part 2): 4 Tight Textured Curl Prep Steps
Thanks to a diverse collection of curly styling solutions Miss Jessie's has to offer, curly hair's former bad reputation as the more complex, high maintenance texture to style, has been debunked. However, summer can be an especially rough time to keep your curly hair's healthy appearance in check, because frizzily frightening environmental elements seem to challenge it, at every turn.
The secret to avoiding a tangled, frizzy mess this summer?
Source: Tumblr
Understanding the unique composition of your curly texture is the key because this information will put you in a better position to accurately determine which products to use and how to use them. First, it is important to remember that all strands of hair are delicate fibers and should always be handled with care. Tight curly to kinky textures of hair are particularly delicate, as the spring-like structure isn't always conducive to locking the natural moisture produced at the scalp, into each strand, from the roots to the ends. Curly hair's propensity for dryness is due to a natural inability to consistently self-hydrate, so to avoid the perils of brittle, damaged, frizzy curly crops, utilizing products capable of supplying an additional dose of moisture, is an absolute must. The tighter the curls, kinks, and coils, and denser the hair is, the more moisture will be required in order to eliminate shrinkage and highlight each gorgeous ringlet within your curl pattern. More importantly, this moisture will fortify each curly strand from the inside, out, allowing hair to grow much more rapidly, while even acting as a defense against any threat to your hair's health.
This is why Miss Jessie's curl experts always stress the importance of following each shampoo cleanse with a conditioner or deep conditioner because conditioners effectively replenish curly hair with the hydration curls crave. Though conditioning curly hair is helpful in maintaining moisture, it is not always enough for tight, kinky, coily curly textures, especially if this is followed by a flawed styling routine. If you don't want your curly cleansing and conditioning to be conducted in vain and desire a beautiful bounty of bouncy, shiny, lengthy looking ringlets, these are our styling suggestions:
1. Detangling the Hair
Source: Tumblr
It is always best to detangle your hair while it is still soaking wet, with a wide-toothed comb. Never attempt to comb through curls while hair is dry, as this will make curly strands more vulnerable to breakage, and ultimately frizz. Curls possess more elasticity and flexibility while wet, allowing it to move and bounce back with ease, so for less breakage (and pain), only comb through curly hair when it is still wet. Also, it is always easier to detangle hair, while your conditioner or deep treatment conditioner is still in your hair. Miss Jessie's Rapid Recovery Treatment or Super Sweetback Treatment, even Miss Jessie's Leave-in Condish, makes detangling such a breeze, and combs slip through curls like butter.
2. Use a Moisturizing Styler
Source: Tumblr
After properly detangling curls, apply a moisturizing styler to the hair, while your hair is still damp. This lightweight coating will facilitate with any further needed detangling, while also locking in moisture, to prevent the propensity for parched strands. Straddling the line between conditioners and stylers, Miss Jessie's Curly Buttercreme or Baby Buttercreme are unique formulas that help strengthen and revitalize dull, lifeless curls. For tight, kinky, coily curly textures, you will instantly notice a decrease in shrinkage and an increase in healthy hair growth, after consistently taking this additional step between washing and styling.
3. Choosing the Right Styling Product
Source: Tumblr
Picking the styling product that best supports your curl texture's needs is important; choosing something too light will not sustain hold and maintain your curl structure as your hair dries. At the same time, something too heavy will weigh curls down too much, and perhaps even create the appearance of icky residue. Figuring out which styling products work best can ultimately be determined by curl density and texture. Miss Jessie's offers a plethora of styling options to sample, but Miss Jessie's Coily Custard, Curly Pudding, Stretch Silkening Creme, and Curly Meringue are excellent for sculpting soft, smooth, curls and coils and illuminating your natural curl pattern, especially when used in conjunction with a moisturizing styler.
4. How to Dry Hair
Source: Tumblr
If you are in the process of growing hair out, it is best to utilize the wash n' go method; this means after completing the steps listed above, you allow hair to dry naturally throughout the day. Yes- it is really that easy! However, some people don't enjoy walking out the door with damp hair and want instantly dry results. Applying direct heat to curls can burn hair, and is a fast ticket to fragile, frayed, and frizzy strands. Heat damage inhibits hair's health and deters natural growth, so the best compromise for this situation would be to utilize a diffusing attachment on your blow dryer. As you aim your blow dryer, diffusers help to regulate the excess of heat directed at your curls, because the round, cup like structure evenly distributes that shocking blast of excessive, streamlined heat, shooting from your blow dyer. Miss Jessie's Pik Diffuser is an excellent universal diffusing attachment, capable of fitting most blow dryers.
Caring for curls is easier than you think! For bouncy curls with every step, effective styling is all about the prep!
Source: Tumblr
---