Daytime Tricks, For Nighttime Pics PART 1: How to Transition Your Hairstyle From Day to Night, and Always Be Selfie Ready
After a long day of meetings, memos, and conference calls, the hustle and bustle that comes with being an ambitious working girl can certainly do a number on one's appearance, throughout the day. You start your morning fully energized and fresh-faced, curls beautiful and bouncy as the pep in your step, but as the day drags and you migrate from demanding obligation to the next, your hair starts accumulating more unruly frizz and flyaways. As a busy girl on the go, these cosmetic catastrophes cannot be made a priority, and looking mildly mussed by 5 pm is simply a good sign of a hard day's work.
Source: GlobalCouture.net
However, with hard work comes well-deserved playtime, and appearing as frazzled and exhausted as you really feel is a sure way to start your evening off on the wrong foot. Whether you've planned a fun night out with your girls or a romantic evening out with your boo thang, looking glamorously on-point post-work, is all part of the fun. If you are fortunate enough to work within close proximity of your home or make plans for later in the evening, you will have no issue finding the time to properly primp and recharge, before stepping out for your big night on the town- but sometimes this is not always the most viable option.
I cannot tell you how many times I have misjudged my workload, so much pulling overtime that rather than getting ready in the comfort of my own personal powder room, I find myself pulling a "Superman"- aka rushing to the nearest available bathroom stall, to fully freshen up my look, just in time to meet my friends.
 Source: indulgy.com
I'm not going to lie, having to do this used to stress me out quite a bit. Since I lack the power of the speed of light, the confined conditions of these foreign restrooms were never conducive to the elaborate nighttime look I had originally envisioned. I would often show up to whatever event I was to attend, late, and looking even more crazy, due to my poor attempt at public speed grooming. The obvious answer would be to leave the office a little earlier, allowing myself more time to get ready, but it's not in my nature to cut corners at work. You can't facilitate an evening of fun and relaxation, without raking in some coins first. In order to reap the benefits of both worlds, I had to figure out a way to transition my professional, office daytime look, into a chic, sophisticated nighttime look, in a matter of minutes. Through much experimentation, trial, and error, I think I have finally gotten making this transition down to a science. So here are my personal tips and secrets to transitioning your look from day to night, with ease. The secret to minimizing primping, while maximizing your style, is to prep your daytime look the night before, then take full advantage of the subtle, yet stunning elegance of your morning glow, using it as a foundation for your nighttime look. No, I'm not suggesting wearing rollers into the office or even packing a diffuser in your purse.
 Source: GifSec.com
If you are rushing out of the office, the last thing you want to do is start styling your hair from scratch. If you plan ahead and create a solid foundation with both your hair (and makeup), after work you will only need to apply a few finishing touches, to really amp up your look. This way you can knock out all professional obligations and still not miss out on a minute of the fun. When it comes to your hair, if you know you have a big event the next evening, plan ahead by cleansing hair with Miss Jessie's Co-Wash and condition hair with Miss Jessie's Créme de la Créme, the night before. If your hair seems more parched or you are seeing more shrinkage than usual, deep condition hair with Miss Jessie's Rapid Recovery Treatment or Super Sweetback Treatment. This will ensure your curls will be happily hydrated the next day, therefore easier to manage and style. Transitioning hairstyles from day to night is simpler than you would think. I'm a big fan of protective styles and updos while at the office because it is my opinion that when a woman wears her hair away from her face, she radiates confidence. While I think wearing hair loose, wild, and free is also gorgeous, it can also make your curls more vulnerable to frizz, muss, and fuss throughout the day. To cut down styling time before going out later, try a cute, braided, twisted, even a top knot updo during the workday, and liberate your naturally luminous, luscious curls and coils for your evening festivities.
The Power Top Knot
Source: hairromance.com
For this tutorial.
Heatless Headband Curls
Source: pinterest.com
For this tutorial.
You will be surprised at how both of these styling options will sculpt full, fluffy beautiful waves and curls, resembling that of a vintage silver screen glamour goddess, while using absolutely zero heat! Once taking your hair down, just throw on some Miss Jessie's Quick Curls for a soft, flexible hold - now only $22.00!
Two Strand Twist Out
source: youtube.com, Miss Jessie's Original
While doing this two-strand twist out, sitting under a hairdryer or using a diffuser is not always mandatory. Twist hair the night before, allowing it to dry naturally overnight and all throughout the workday. When you are getting ready to go out for the evening, untwist the hair, and manipulate your hair with your fingers, to achieve the desired volume. Add a small amount of Curly Buttercreme or Baby Buttercreme, for additional moisture.
A Classic Braid Out
Source: strawberricurls.com
For more on this look.
You can apply Miss Jessie's Pillow Soft Curls or Jelly Soft Curls, to preserve the pretty pattern of your braid out, all night long! Each of these protective styles will ultimately help illuminate your naturally stunning curl patterns, providing tighter curls and coils beautiful definition, in a matter of minutes. Again, without the use of any curl damaging hot tools! And as you are doing your day to night hair touch-ups, don't forget to pack some Miss Jessie's in your purse! We offer sample sizes, perfect for quick primping on the go!
Source: MissJessies.com
If you anticipate a time crunch between leaving work and meeting your peeps for a night on the town, if you follow these steps, no one will ever see you sweat!
Source: Instagram
You can put this preaching into practice tonight when you join us for another evening of All-Star Karaoke! Once again, we will be at Billie's Black Soul Food Restaurant, located at 271 West 119th Street, St. Nicholas Avenue, in Harlem, co-hosted by entertainment journalist and pop culture expert, Patrick L. Riley. Even if you forget to pack your MJ products to touch up post-work, that's ok! You will have the chance to compete for some of your favorite Miss Jessie's products, and everyone in attendance will receive a special goody bag!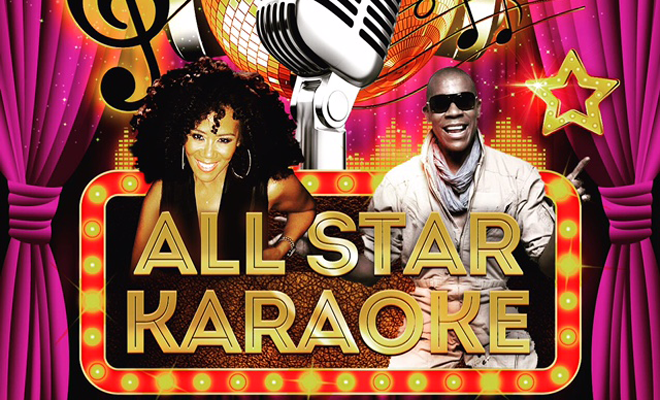 We hope to see you there!
---