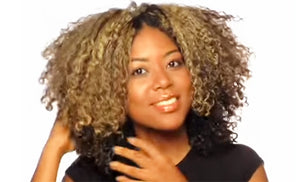 Fingerstyling Demo Part Trois: How to Stretch Out Curly Hair
What You Will Need For Fingerstyling:
A Comb
A Flat Nozzle Hairdryer (for additional fullness and volume)
A Spritz Bottle filled with water
Hair Clips (to section the hair)
A Styling Product that Supplies Moisture. In this demo, we Recommend a combination of Quick Curls and Stretch Silkening Créme.
Fingers
A Silk Cap (for bedtime)
Directions: In order to do this demo and yield the best results, start with wet hair. If you happen to be due for a wash, we recommend our Super Slip Sudsy Shampoo, to cleanse and nourish hair. Also, note that your choice of conditioner of choice will ultimately set the tone for the rest of your styling. The natural structure of curls and coils makes curly hair more vulnerable to dryness, and this lack of moisture can ultimately lead to damaging breakage. Therefore, the choice of conditioner is very important; a curly girl should always seek out a conditioner that contains sufficient moisturizing properties.
Related: Fingerstyling Made Easy
This styling demo is focused on how to stretch out curls, I would suggest nourishing hair with the deep conditioning treatment, Miss Jessie's Super Sweetback Treatment, as this product also facilitates in the production of stretched out curls. Leave this treatment on for 10 to 30 minutes. While your hair is still wet and saturated with conditioner, take a wide-toothed comb to comb through hair from root to ends, detangling it. Once hair is fully detangled, rinse out the product.
Related: Fingerstyling with Miss Jessie's, Part Deux
In a rush or not due to washing your hair just yet? Dampen hair with a spritz bottle filled with water. Use a wide-toothed comb to detangle hair, combing from roots to end. If you are having difficulty working through serious knots, you can avoid ouchies and hair breakage by applying a tiny dash of Miss Jessie's Leave in Condish, as this will facilitate the detangling process. Adding this touch will also provide a, smooth, shiny, well-nourished palate, creating the perfect foundation for sculpting curls.
Once you have sufficiently moisturized and detangled your curls, follow these steps to effortlessly fingerstyle your lovely, luscious locks!
That's all there is to it- Scrunch, twirl, and work it girl!
Related: How to Properly Diffuse Hair
*Source: Youtube.com
---