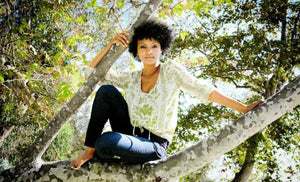 Curl Girls: An Exclusive Interview with Broadway Star and American Idol Finalist, Syesha Mercado
Hey there curly girlies! I was fortunate enough to catch up with singer, songwriter, actress, and globetrotter, Syesha Mercado, for an exclusive interview regarding her style secrets and so much more! For those of you who have been living under a rock the past six years, Syesha Mercado was the third-place finalist on the seventh season of American Idol, and her star has been on the rise ever since. She's played some of the most coveted roles on Broadway, including Deena Jones, in the traveling national tour of Dreamgirls, and Nabulungi from The Book of Mormon, both in Chicago and in New York, on Broadway. This petite powerhouse is a theatrical force to be reckoned with, and not only is a triple threat on the stage, but she is also an expert at looking fresh, always putting her most fierce foot forward. Though she is currently on a personal pilgrimage for creative inspiration, traveling through Central America, she graciously took the time to speak with me, during her stop in Belize.
Syesha, have you always gone with a natural look for your hair?
Yes, I've always gone natural. I grew up in a multicultural family- my mother is Bahamian and my father is Puerto Rican, so I was always considered "the girl with the mixed hair". People always used to think I had a jheri curl, because my mother used to always put pink lotion in it. It was very greasy. I couldn't stand that stuff. When I was in high school, you know, I wanted to be like everyone else, so begged my mom to let me perm my hair, and it was burning so much! It was so bad! I had to wash half of it out, so my hair was half straight half poufy! It was so awful. It wasn't until I was a little older that I really started to embrace my hair, and it wasn't until I was in college that I really started experimenting with styles and wearing it out. I did the mohawk, bangs, or pinning it back on one side... You know, like every girl, I found my 'go to' hairstyles.
And what are your 'Go To' hairstyling techniques?
Pretty much just blow drying and diffusing- and I'll usually wear it out with my bangs forward. I've been using Miss Jessie's products since 2008- I was sent a box of products, and I've loved them ever since being introduced to the line. About once a week, I will wash my hair with Miss Jessie's Rapid Recovery Treatment to deep condition my hair, and I love that because it has shea butter and avocado in it. I color treated my hair a lot, back when it had blonde in it, so I love the moisturizing and reparative properties of this product so much. I leave that in for ten minutes, comb through my curls, then rinse. On other days I wash my hair and don't use Rapid Recovery Treatment, I will use Miss Jessie's Créme de la Curl to condition my hair and do so pretty much every day. It's so great because of my hair's tendency to get really dry. And again I'll comb through it in the shower.
When I get out of the shower, I will use Miss Jessie's Curly Pudding and do a twist out. That can be a little time consuming, but I love the results from doing that. If I'm in a serious rush and want a quick style, I will use Miss Jessie's Quick Curls. I love how this particular product is so soft, lightweight, and makes the process fast, easy, and smells so good, so after applying a little of the Quick Curls, I will then either blow dry or diffuse my hair. And then I'm done, and I can go!
What other Miss Jessie's products have you sampled and enjoyed?
Recently I tried Miss Jessie's Pillow Soft Curls at the salon in NYC, and it was AMAZING! My hair feels so soft. I also love Miss Jessie's Jelly Soft Curls. I started using that one when I was in California... I brought it with me. I got my hair trimmed, then went to California for a photo shoot, and I really didn't have the time to go through the whole twist out process, so I just put that in my hair. I had also rented a convertible for my stay, so after applying the Jelly Soft Curls, I just left my hair loose and let it blow in the wind as I drove around, and by the time I got to the shoot my hair was so big and beautiful, and curly... but, like, soft curls.
Do you notice the difference between Miss Jessie's Pillow Soft Curls and Miss Jessie's Jelly Soft Curls?
Yes I do. For me, the Jelly Soft Curls stretches my curls more, and that's something I'm always looking for. My hair shrinks a lot, especially when I'm in particularly humid climates, like when I visit my hometown in Florida, or now as I travel through tropical areas, like where I am now in Belize. I get a lot of shrinkage, but there are certain products like Miss Jessie's Jelly Soft Curls or the Super Sweetback Treatment, that stretches out the curls. I will say, the Super Sweetback Treatment is slightly lighter and goes on a little easier than the Rapid Recovery Treatment, and I will leave it on a little bit longer than I would for the Rapid Recovery Treatment... Like I'll get out of the shower with it still in my hair, and do a little housework or something, and keep it in my hair. Then I'll rinse it out, and when I'm done, my hair feels like silk! Sometimes I'll do that one twice a week, sometimes once, depends on my schedule.
How did you learn about personal style? Did someone teach you, or were you self-taught?
I kind of explored and figured it out myself... I was really afraid to embrace natural curls and big hair. Every time I wore my hair out when I was young, and going to church, or in the community, or even school, people would always tell me, "You need to comb your hair", or "Your hair is nappy", and because I felt like I always had to defend or justify my look when my hair was out, I was a little timid about it. After college started experimenting with different products, but even then it was really difficult for me to find something right for my hair. And that's why I became such a huge Miss Jessie's fan in 2008 because I had been looking for the right kind of products that suited my hair for a very long time. Prior to discovering Miss Jessie's I had been using a lot of gels because I liked how they defined my curls, but it caused my hair to have breakage, which I did not like at all. I also didn't like how other gels altered the feel of my hair's texture.
What would you say is your biggest and best curly hair secret?
I like natural products for my body (I use shea butter and coconut oil to moisturize my skin every day!) and my hair, so style wise, I do whatever comes naturally to me. I have this technique where I will take either a scrunchie or a hair-tie, and pull my curls back while I'm styling, to give my hair length. I'll pull it back, play with it for about 10 minutes, then diffuse or blow dry it, then pull it back again... I go through this rotation a few times until my curls are stretched out and defined. I call it my "Pull Back Technique", and I learned to do that because I lived in Florida most of my life, and when I started doing commercial, TV, and film work, I really wanted my hair to just stay. Humidity can do a lot to the hair, and this sort of help to control it. When I did this technique with a gel, my hair was prone to breakage, but breakage has never been an issue with Miss Jessie's.
Who would you say are your celebrity style influences?
Singer Kelis was one of my earliest hair idols, along with Diana Ross. Top Model, Eva Marcille, inspired my short and blonde phase because I used to watch the show, and when I saw her makeover episode, I was like, "YEP! I'm doing it." This was when I was touring with Dreamgirls, so I was going through like 19 wig changes every show, so that made the quick changes go much more smoothly. I also really admire Tracee Ellis Ross, Yaya DaCosta, and Curly Nikki's style... And I absolutely LOVE Esperanza Spalding's big beautiful fro.
Do you remember what you wore to your first American Idol Audition?
Yes! A short sleeved, purple sweater top, a long necklace, black and brown wedges, some True Religion jeans I had been given after working on a previous TV gig, and my hair was totally out.
And you received all three "Yes" from Simon, Paula, and Randy?
Yes I did, but I can also recall Simon saying (imitating Simon with an English accent), "I don't get it."
If you could re-audition now for the American Idol panel, what would you sing?
If I could do it all over again and audition, I would probably pick an original song, or I would sing "Skyfall," by Adele. Who was your favorite guest judge from American Idol?
Probably Mariah Carey. She was so down to earth, and kind, and very helpful at providing me with constructive tips.
What other American Idol veterans do you look up to?
I love Fantasia and Jennifer Hudson, not only because of their talent, but both came from modest beginnings, yet rose to the top because of their fierce determination, support from their families, and believing in themselves. I actually had the privilege of meeting Jennifer Hudson during the Dreamgirls tour- she's so incredibly nice and humble. She even asked me and the other girls to sing for her, and then she even joined in with us. It was such a great moment and felt like such an honor.
What was the best professional lesson you think you learned from working on American Idol?
For whatever reason, I have a really difficult time learning covers, and that was essentially what was required of the entire American Idol process. So every time I was given a new song to learn, I would obsessively practice and listen to it over and over again. Even during Hollywood week, when I had come down with laryngitis, I really pushed myself hard, even if it meant sacrificing important things your body needs to function, like sleep.
However, when Donna Summers came on as the guest judge, she taught me a valuable lesson, "Go to bed. You can always get up early, after you have rested, and do it in the morning. Get some sleep, and do it in the morning."
What was the best professional lesson you think you learned from working on the Dreamgirls tour?
The Dreamgirls tour really taught me how to properly take care of my instrument. When I was on Idol, I showed up to Hollywood week in nothing but sandals and a scarf, and it was COLD! I made it through, but that's probably how I got laryngitis to begin with. Being on tour with a show, I always had to always be prepared and one step ahead of the weather, so that something like that didn't happen. I always do research before going to a city, even before the tour officially begins. I need to know what to expect so I can anticipate how to properly doctor up my voice.
What was the best professional lesson you think you learned from working on the Book of Mormon production?
That show was just so exhilarating. It taught me so much about myself, as both an artist and a performer. I was able to work alongside these comedic geniuses, and the entire cast was so talented. I also really learned how to pace myself. Doing eight shows a week can be a lot on your body and your voice, and you can forget how time-consuming it can be. It's important to maintain a schedule for yourself. I remember my high school drama teacher, Scott Keats, always telling us, "To do lists will come in handy". It was during the Book of Mormon that I really began to understand the value of this lesson, and started regularly creating daily "To Do" lists.
When did you realize music and performing were your passions?
My mother is an incredible Gospel singer. The first time I heard my mother sing, she was in church, and I just remember looking around at all people being moved by her voice and what she was singing - we call it The Anointing. I remember being as young as five years old and seeing this, and thinking, "That's what I want. I want to touch people in this way. I want the ability to move people and inspire them."
Syesha's mother, Zelda, singing the song that inspires Syesha most:
What do you think personally motivates you?
When I would witness my mother's singing moving people, it scared me as much as it inspired me. I was a very shy kid and still, can be at times, but what get's me through that is knowing that when I'm done singing, hopefully, someone's life will be changed or I will have inspired someone.
Also traveling is a personal source of inspiration and motivation. Exposure to new cultures and traveling the world inspires me, and nature speaks to me. There is something about escaping the noise of the city, and being outside while listening to the rain fall or the sounds of the wind. Lyrics come to me much more easily when the noise is gone, and I feel more centered and open. It's just easier to hear. It motivates and inspires me. This is my current creative endeavor/ project- just traveling the world with the man I love, and allowing our travels and nature to organically inspire our songwriting.
What is the best personal advice you can give for someone else who aspires to be part of this industry?
I used to say, "Always follow your dreams," but now I say, "Always follow your bliss," because that is the source of true success. Know that just because you experience failure, that doesn't mean you are on the wrong path, it is just better preparing you for the twists and turns of the right path. You have to push through it, because if you do, you will persevere.
Also, know where you come from because that is the basis of all things. Know who you are, because once you figure out who you are and are firmly rooted in your own personal identity, it is so much easier to create original work. Always remember: The most important opinion is the one you have of yourself."
What is your definition of beauty? What makes you feel the most beautiful?
True beauty is embracing your true self, flaws and all.
What advice would you give young women who are struggling to find beauty within themselves and have low self-esteem?
The most important opinion is the one you have of yourself. When you are feeling low, distract your mind with learning something new. An intelligent woman is an attractive woman and that to me is BEAUTY. Anybody can look picture perfect with a glam squad behind them and photoshop, but our outer shell doesn't last forever. What's in your brain and heart will.
Also, I would say keep a journal of positive affirmations, so for every negative thought, you have replaced it with a positive one. If you don't believe what you are writing you can never go wrong with, "I AM IN the process of _________." You can also just simply keep a journal and write something nice about yourself for every bad thought you have.
For more from the lovely songbird, Syesha Mercado, check these out:
Syesha Mercado singing
Summertime
:
Syesha Mercado singing a Cover of Beyonce's Love On Top:
It is apparent that Syesha possesses that rare kind of beauty, which radiates from within. It was both an honor and a pleasure to speak with her, and we at Miss Jessie's reciprocate her love of our products, with genuine admiration for her talent, natural grace, and quality of character. We can't wait to see what she will do next!
Special Thanks to Syesha Mercado and Erica Hicks.
---