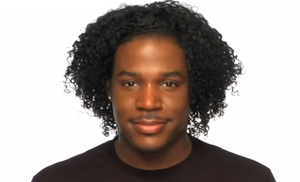 Fingerstyling with Miss Jessie's Part Deux
 Hey there curly girlies! Last week I told you all the secrets to finger styling beautiful curls and coils, utilizing Quick Curls. I also gave you other examples of moisturizing products that can facilitate this style, however, as I said last week, the product of your choice should be determined by both your hair's unique texture and the most prominent of your curl pattern compositions. This week, I'm going to share with you about fingerstyling tight curls and kinkier textures, with Miss Jessie's Curly Pudding.
A veteran of the Miss Jessie's line, Curly Pudding is denser than the products mentioned in last Monday's blog, Fingerstyling Made Easy.
Moisturizing hair from the inside out, Curly Pudding transforms shrunken, dehydrated strands into smooth, sleek, shiny, and stretched out curls. It's important to comb curly hair from the ends to the roots, to prevent breakage. It is also important that the amount of product used is contingent on your hair's weight and density.
What You Will Need:
A Comb
A Flat Nozzle Hairdryer
Fingers
A Styling Product that Supplies Moisture (We Recommend: Curly Pudding or Curly Meringue for this style)
A Silk Cap (for nighttime)
To Start: In order to do this demo and yield the best results, start with wet hair. If you happen to be due for a wash, note that your choice of conditioner will ultimately set the tone for the rest of your styling. For this style/product combination, we recommend nourishing hair with a deep conditioning treatment, such as Miss Jessie's Super Sweetback Treatment, to stretch out hair, or Miss Jessie's Rapid Recovery Treatment, to repair any previous damage.
Related: How to properly diffuse hair
Use a comb to detangle hair. It's important to comb curly hair from the ends of the hair to the roots, in order to prevent breakage throughout the detangling process. Scrunch, style, dry, diffuse, and you are ready to bounce!
Related: How to properly fingerstyle hair
Source: Youtube.com
---