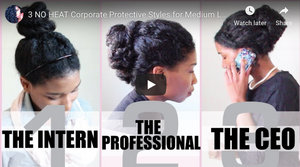 Hair Tutorials For The Working Girl
Now that the 4th of July weekend has concluded, it is back to the office grind, and while I love my job and the independence that comes with working hard, I will say that getting ready for work in the morning is a regular struggle for me. I always want to look my best before strutting my stuff in the streets, however each morning I awake surprised by my hair's inclination to act as a completely independent entity - I swear it has a mind of it's own! I am not a morning person by nature, and while I always aspire to appear as the picture of perfection around the office, when it comes to doing my hair, I find myself feeling sluggish and uninspired in the early morning hours. Even when I do have the urge to get a little creative, I make a mess, pulling out the styling tools in my hair arsenal - rollers, diffuser, two different blow dryers of varying heat, and all the products I can get my hands on. What usually end up happening is, instead of looking like a pretty professional woman, my hair is a giant mess, my room looks like the aftermath of a hair salon explosion, and realizing I am now running late, I end up reverting back to an old fashioned ponytail.



Tired of being stuck in my old hairstyling routine, I went on the hunt to find a styling tutorial for natural hair that are fast, simple, and chic. What I discovered was this amazing tutorial for three protective styles, great for any and all corporate settings. Whether you are an entry-level intern, a seasoned professional, or running your business as CEO, there is a trendy yet elegant style for you, and best of all, each style takes five to seven minutes to do, at most. Best for medium length hair, these styles conducive to flattering and protecting your natural curls, because they don't require any heat at all! Give each a try and let us know what you think- and don't forget to add a little Miss Jessie's to these routines, to keep your curls flawless!



---