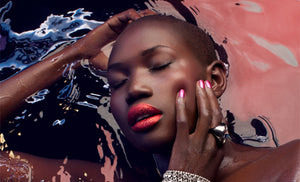 Summertime Shorties: Benefits of Short Hair In Warm Weather
Towards the end of Spring, I made the decision to grow out my relaxed hair, transitioning back to my natural curls. Since my hair is still in the earliest stages of growth, I'm still a little hesitant to cut my long locks just yet, so in the meantime, I've been relying heavily on my stash of Miss Jessie's Transitioner's Magic and MultiCultural Curls. While I don't regret my decision to go curly, I must admit that I do regret the time I've chosen to undergo this change. I really wish I had started growing out my hair in the Fall or Winter, so that by the time the warmer months rolled around, I'd have a good few good inches of curls already, and be more comfortable cutting the rest.


Now it's too hot, humid, and sticky out, I'm little envious of my girlfriends with cute, curly crops, and each day I am more and more tempted just to give up on my original plan of allowing my hair time to grow, and succumbing to the Big Chop. Summertime has really got me thinking about the benefits of rocking a short doo, so today I've decided to share some of the perks for going short this time of year.


1. Cool Neck, Cool Everywhere!
The back of your neck is considered one of your body's cooldown pulse points. Keeping this area of your neck exposed to fresh air is a natural way to keep your body temperature down, as climate temperatures go up. So while your long-haired friends struggle between deciding to tie their hair up or risk sweating off their face-off, you are free to frolic about town, cool as a cucumber.



2. Strong, Healthy Ends
Because your natural growth is so new, it hasn't endured all the stress of being exposed to damage-inducing environments and elements. Therefore, it is actually much stronger to your older hair, from root to tip. As long as you don't abuse your ends with excessive heat, chemicals, and over manipulation while styling, then your newest curls will continue to be as strong and healthy as the day they came in.



3. The Detangle Angle
The age of your hair matters and the longer and older your hair is, the more vulnerable the strands are to tangling, splitting, and feathering. The condition of your ends actually does create an impact on the condition of your roots, because the finer and thinner your ends become, the more stress, wear, and tear is placed on your healthy new growth. With short hair, you don't have to worry about the potential damage caused while aggressively attempting to comb out knots and tangles. So instead of focusing on how to detangle without mangling your ends, you can concentrate on actually coming up with a funky, fresh way to work and style your doo.


4. Style Profile
Less hair requires less time to style and more potential for style manipulation, so get out the door more quickly by shaving valuable minutes off your beauty regiment. Concerned about how to achieve a protective style? No problem! Short hair is naturally conducive to being protective in itself because your ends will not experience the damage that can happen from the natural friction between your ends and your clothing. If you currently have short hair and are interested in checking out some protective styles, check out this article!


5. Just Add Water!
Moisture is a curl's best friend, regardless of hair length, but for those with short hair, water has the ability to facilitate additional advantages that those with long hair don't necessarily get to enjoy. As I previously stated, unlike long hair, short hair is less likely to become a tangled mess, typically requiring less time and effort for style manipulation. I bet you didn't know that with short hair, all you really need in your hair prep is a tiny dollop of products and WATER! THAT'S IT! Stay cool with a little H2O, then throw on either some Miss Jessie's Baby ButterCreme, or Miss Jessie's Coily Custard, or Miss Jessie's Curly Meringue, or Miss Jessie's Curly Pudding, and you are good to go! You will be surprised at the versatility short hair truly allows for, and even if you aren't an expert stylista, the wash and go look is always a classic, chic option always at your disposal.
---