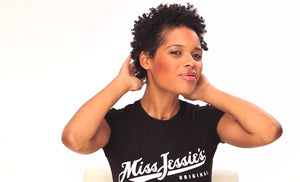 How To Do A Coil Out in 6 Steps
Ever wanted to know how to achieve the best bunch of bouncy, coily, ringlets? Well, don't worry, because Miss Jessie's will take care of you! Using Miss Jessie's infamous Curly Pudding, this demo will walk you through how to get the elegant coil out of your dreams. Not only is this process quick and simple, but the Curly Pudding will preserve your coily style while moisturizing from root to tips, keeping your curls shiny, healthy, and looking salon fresh all throughout the day. Check it out right here! For this Demo, you will need:
Miss Jessie's Curly Pudding
A Wide-Toothed Comb
A Hair Clips (to separate sections)
A spritz bottle with water
Steps for how to do a Coil Out
Dampen hair with a spritz bottle.
While hair is still damp, detangle hair by gently combing through it with a wide toothed comb. This will provide you with smooth ringlets, and make it easier to style.
Using your clips, separate hair into multiple sections.
Release one section to begin styling on. Take a tiny amount of Miss Jessie's Curly Pudding and massage into one of your ringlets, from root to tip. Begin rotating the ringlet with your fingers, into a coil shape, until the coil slips from your fingers. Continue this process throughout the rest of your hair.
Sit under an overhead dryer for 45 minutes to an hour, depending on the density of your hair.
Once the hair has dried, begin to uncoil section. For maximum volume, divide the now uncoiled ringlet into 2-3 parts. The more you divide the hair, the more volume there will be.
---