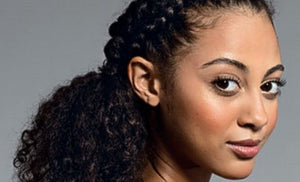 SEVEN DAYS OF BRAIDS: 7 DIY Trendy Braiding Tutorials (Perfect for Transitioners)
Transitioning from processed, chemically treated hair back to your natural curly texture can be a long, arduous process. However, this journey is always worthwhile, as the end result is a healthy, lush head of gorgeous natural curls and coils- the hair god intended you to have. In order to achieve this, having patience is essential. Most women feel obligated to undergo the big chop, starting from scratch with a super short, curly pixie look, however, not everyone feels comfortable jumping in full throttle and getting a "Halle Berry". Rumor has it that even Halle had initial reservations about her now iconic short doo, so for those of you who desire to transition without the drastic change in length, you are going to have to get creative while working you're competing for textures.
I'm sure you already have noticed that as your natural hair grows in at your roots, that it's become more and more difficult to style. This isn't like a case of varying curl patterns that just need a little scrunch here and there to give the appearance of a more monochromatic curl pattern. If your hair was once chemically treated, your hair is probably composed of multiple radically different textures- your natural, curly roots and stick straight, relaxed ends. If you aren't ready for a big chop, then the best thing you can do is continually trim your ends little by little, as your natural hair grows from your roots, but in the meantime, you must figure out healthy alternatives to styling. Though you can totally drop tons of money on a flat or curling iron to provide the appearance of a consistent texture as you transition, regularly imposing intense amounts of heat on the hair will cause breakage, ultimately damaging your new growth and deterring the entire transitioning process. So for anyone transitioning- heat free styles using moisture-based products that nourish hair, such as Miss Jessie's Transitioner's Magic, are the way to go. It's crucial that all those transitioning between textures are educated about their styling options - because yes, they do exist.
Personally, I'm a big fan of braiding. I know this style sounds beyond mundane- how can braids lend themselves to a variety of styles? I'm here to tell you there are THOUSANDS of elegant, eclectic hair braiding techniques, all of which are suitable for a variety of occasions. Plus braids are a protective style, requiring zero heat and consequently allowing for optimum growth of your natural hair. This means less time in the awkward "in-between" transitioning hair phase. Also the waving effect braiding creates upon their release, can be a sexy style unto itself. The best part about braids, is the manner in which they strike a curly/wavy balance between textures, when undone in a braid out. If you've made plans for a big night on the town but don't have the time after work to spend hours styling your hair, throw it in a braid during the workday, then liberate your luscious locks for the evening.
Don't believe me? I've mapped a week's worth of braids for transitioning hair below, with tutorials. So check them out and get to styling curly girlies!
MONDAY:
Start your work week off right with this simple, yet sophisticated braided chignon style.
source: shinestruck.com
TUESDAY:
Put your best professional foot foreword at the office, while also maintaining a unique sense of style, with this look.
Photo Credit: Mike Garten
source: refinery29.com
WEDNESDAY:
Unique and chic, this braid is a real hump day treat!
source: akernan.files.wordpress.com
source: hairromance.com
THURSDAY:
Celebrate Throwback Thursday in style, with this play on an old school pompadour.
source: pinterest.com
FRIDAY:
Friday night has always been "girls night" amongst my friends, so go from day to night with this French Braid Fishtail Combo braid. You can also utilize this style as your braid out prep during the day, undoing them at night for a wonderful, voluminous wavy style.
source: thebeautydepartment.com
Natural Hair 101: How to Braid Out (with Miss Jessie's Transitioner's Magic), by Eugenia Says source: youtube.com, by: Eugina Says  
SATURDAY:
After almost a week of braided up styles, it's time to have a little fun by changing up your look, with this style entitled, The Unfinished Braid. Impress your boo, with this romantic, braided date night doo.
Photo Credit: Winnie Au
source: refinery29.com
SUNDAY:
Sunday fun-day, is a day to relax and unwind, but just because you are taking it easy, doesn't mean you can't look good while doing it!
source: buzzfeed.com, yetanotherbeautysite.com
1
|
2
|
3
|
4
|
5
|
6
|
7
|
8
|
9
|
10
|
11
|
12
All images sourced via Pinterest
---