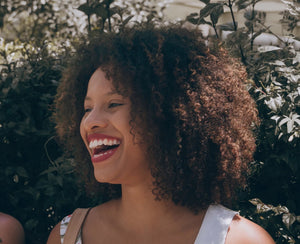 Tips On How To Refresh Curls
Picture this: you've managed to tame your curly hair into perfectly defined curls that make you look like an A-list celebrity on a Friday and you're ready to go out all weekend! After a night of drinks, dancing, and fending off suitors, you get home and sleep off a successful night with friends… only to wake up and find your once-perfect curls somehow became a frizzy mess overnight!
Like the carriage that turned back to a pumpkin at midnight, our hair has returned to a messy pumpkin that will need some refreshment. Of course, this isn't a one-size-fits-all guide on how to refresh curls in the morning. This is more of a general guide on how to refresh curls and best practices so you can keep your Cinderella pumpkin carriage for 3-4 days instead of just until midnight. So, how to refresh curly hair after sleeping on it?
Set Your Hair Up for Success
Before we can teach you how to refresh curly hair in the morning, you'll want to invest a little time and money before your night out. If you don't know your type of curly hair, then you'll need to figure that out as soon as possible! Remember, knowledge is power and knowing your hair type will empower you to find the right products for your curls.
Once you know your curl type, let's talk about reducing frizziness in the morning by investing in a satin or silk pillowcase. Pillowcase materials are important to your curls because cotton and other materials can cause extra unwanted friction while you roll around in your sleep.
Next thing you need to do before bedtime is to put your hair up into a pineapple. Putting your hair in a pineapple at the top of your head keeps the curls from getting squished by your hair while you sleep. This will protect your hair from the extra static and thus reduce the frizz. We have compiled a short list of tips on how to refresh curls.
How to Refresh Curls
So now that we've covered your pre-bedtime procedures, let's talk about the dreaded morning and how to refresh curly hair after sleeping on it. 
Water Lightly
Refreshing curly hair
can usually be done with a spritz of water. Having a spray bottle will make this process infinitely easier and most spray bottles have adjustable nozzles to achieve the amount needed. 
Adding just a little bit of water will reactivate the gels and conditioners that you put in on Day 1. Repeat as needed for days 3 and 4, although the methods to
refresh curly hair
may change the longer you wait to wash your hair.
Reapply Product, If Necessary
After misting your hair with a little bit of water, it's as simple as re-scrunching to reactivate the hair product. For days 3 and 4, you might need some extra product or dry shampoo if your hair gets too oily. If it gets too dry, apply a leave-in conditioner. 
The amount of extra product you'll need will depend on the amount of product that is already in your hair! Be sure not to overdo it or you'll end up weighing down your hair and it won't bounce back the way you want. Add a little at a time, it's easier to apply more than it is to take some away!
Reshape with Your Fingers! 
When you
refresh curly hair
, using your finger to coil your curls can be an effective way to reshape your hair in the morning. Be sure to use your fingers to bring the volume and springiness to your curls in addition to adding the water and products.
Get the Right Tools for the Job 
Sometimes your tangled hair will need some more attention than your fingers can handle, especially when dealing with day 2 to 4 (and sometimes day 5) knots and tangles. When this happens, be sure to use a good detangling spray and a wide-tooth comb or paddle brush. As you know, detangling hair takes patience and a firm but gentle approach. If you overdo it, you might end up pulling out your beautiful hair; we definitely don't want that!
Guides Can Only Do So Much 
While these are great tips on how to refresh curls, the best way for you to refresh curly hair is through the use of great curly hair products and trial/error. Curly hair has been classified into 12 categories by big wig scientists but the real expert about your hair is, well, you! If you're looking for top quality hair care products, Miss Jessie's has your curls covered.
Take a look at the best products you can find and check out Miss Jessie's today!
---